Yes! the only orininal Salt Cave in London we could get 20% discount from (either single session or packages), to all our patients!!! Grap this opportunity, here we explain the countless benefits by this therapy!

Who can help? The therapy is suitable for everone, young and old, babies and pregnant women. It can help people with different respiratory and skin conditions such as:
Asthma
Hay Fever
Cough
Bronchitis
Rhinitis
Cold and Influenza
Bronchiectasis
Ear Infection
Eczema
Sisusitis
Cystic Fibrosis
COPD
Psoriasis
Chest Infection
Respiratory Allergies
IMPROVEMENT IN 85% of mild and moderate asthma cases - 75%of severe asthma cases - 97% of chronic bronchitis, bronchiectasis and cystic fibrosis cases
WHAT ARE THE BENEFICIAL EFFECTS?
Breathe easier after the first session
Alleviate sneezing, coughing and shortness of breath
Remove airborne pollen particles from airways
Strengthenyour immune system
Improve dermatological disorders such as dermatitis
cleance the respiratory system and speed up the elimination of toxins
clear mucus plugs and sticky phlegm from the lungs
clear up catrrah and congestion of the sinuses
restore your energy levels
reduce the need to use inhalers and antibiotics
reduce the number of hospital admissions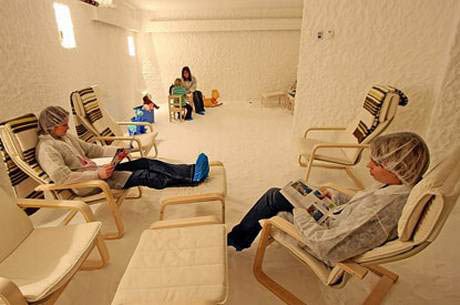 IS TREATMENT AT THE SALT CAVE RIGHT FOR YOU? Yes, for sure! You'll feel better after just an hour in a very relaxed enviroment. It is an all-natural compliment to your doctor's prescribed regimen. Salt Therapy has been proven effective in multiple clinical trials!
**HOW DOES IT WORK?
Length: 60 minutes
Frequency: 2-3 times a week
Number of sessions: Children 5-15 times, adults 10-30 times depending on age and condition.
Effects last for: 6-12 months